2022-10-27 | 13:52
1643
It is not as easy as it may seem.

What difficulties do you think a bride may face when choosing her wedding hairstyle?
Do you think researching the current trends is enough to find the one that suits your hair length and texture?

Everything is not as simple as it may seem at first. Finally, many other details should be taken into account, for example, the style of the wedding dress, the shape of the face, and compatibility with accessories.

If a bride dreams of an intricate hairstyle or beautifully styled curls, she must consider whether all the splendor of that hairstyle will stand the test of the wedding day.

You should also take into account the weather conditions, which can be very unpredictable and ruin any hairstyle.

That is why, when choosing the perfect hairstyle for the wedding, the bride should take into account many nuances related to her character, which we will now look at in more detail.
Wedding dress design and style
If the bride chooses a wedding dress with open shoulders, in this case, it is desirable to collect the hair and open the neck to emphasize it.




A wedding dress with a voluminous skirt will be beautiful with a neat flat hairstyle.
A little loose, but perfectly styled curls, in which you can add thin braids or beads, will be beautiful with a short wedding dress.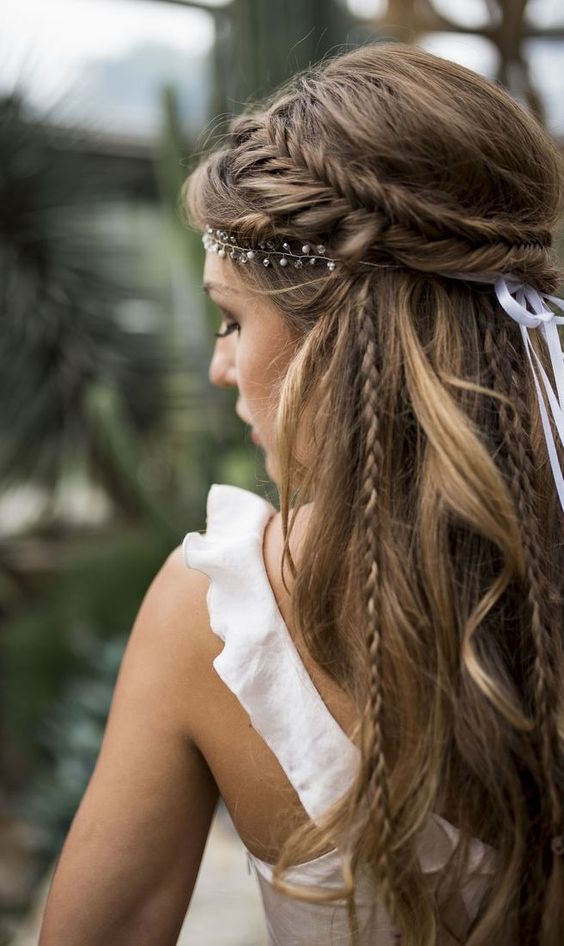 Based on the design of the dress, it is important to remember the compatibility of styles. A classic wedding dress will go best with a classic hairstyle, while a colorful or modern-cut wedding dress can add interesting style elements to the hairstyle.
The structure of the bride's face
The task of any hairstyle is to emphasize the beauty of the face and correct the smallest flaws. Therefore, it is very important to consider the structure of the face.

If you need to hide a large forehead, you can choose bangs and cover them with them.
But when the question concerns a large nose that needs to be visually reduced, give up bangs.
Those with a round face should choose a stylish, pulling hairstyle.

With a more square face structure, it is better to visually round it. Side-swept bangs, which are trendy right now, will be a great solution. One can also consider loose, long curls, which can hide the cheekbones.
A triangular face can be corrected with lush, loose long hair with neat bangs.

And what should brides with a rectangular face structure look for?
Long bangs gathered in a high and simple style will help distract attention from the wide part of the face.




Different styles and hairstyles will help soften the shape of the face, but the main thing is to avoid high hairstyles with a voluminous style. They will only emphasize the shape of the face.
The length of the bride's neck
If the bride has a short neck, then she should lift and gather her hair behind. And if the neck is thin enough and long, medium-length hair with nice bangs will be great.
Bride's hair color
Of course, the choice of hairstyle does not depend on hair color in any way. No style suits only brunettes or blondes.
But color can be taken into account when you choose jewelry to wear or decorate your hairstyle.

For brides with dark hair, jewelry with a beautiful shine will be perfect.
And blondes can decorate their hair with jewels in more subtle shades, like white or milky.


The figure and height of the bride
The hairstyle of tall brides should not be too high.
It will add centimeters to the height and this should be taken into account especially if the groom is not much taller than the bride herself.

Girls of average height can visually stretch their figures by collecting their hair in a fashionable, hightail.

For brides with a rounder structure, it is better to refuse an unnecessarily voluminous, complicated hairstyle. The best choice would be neat, high, and simple hairstyles with the addition of interesting accessories.

We hope our blog has helped give you an idea of ​​your wedding hairstyle, but if you're still unsure, that's okay.

Of course, there is a solution. One can simply pick out the most desirable hairstyles a few months before the wedding and start trying them out.

With love, Peri Bridals.